Lessons Learned from 10 Years of Strategic Planning w/Anthony Taylor
By Jason Heckl - October 08, 2020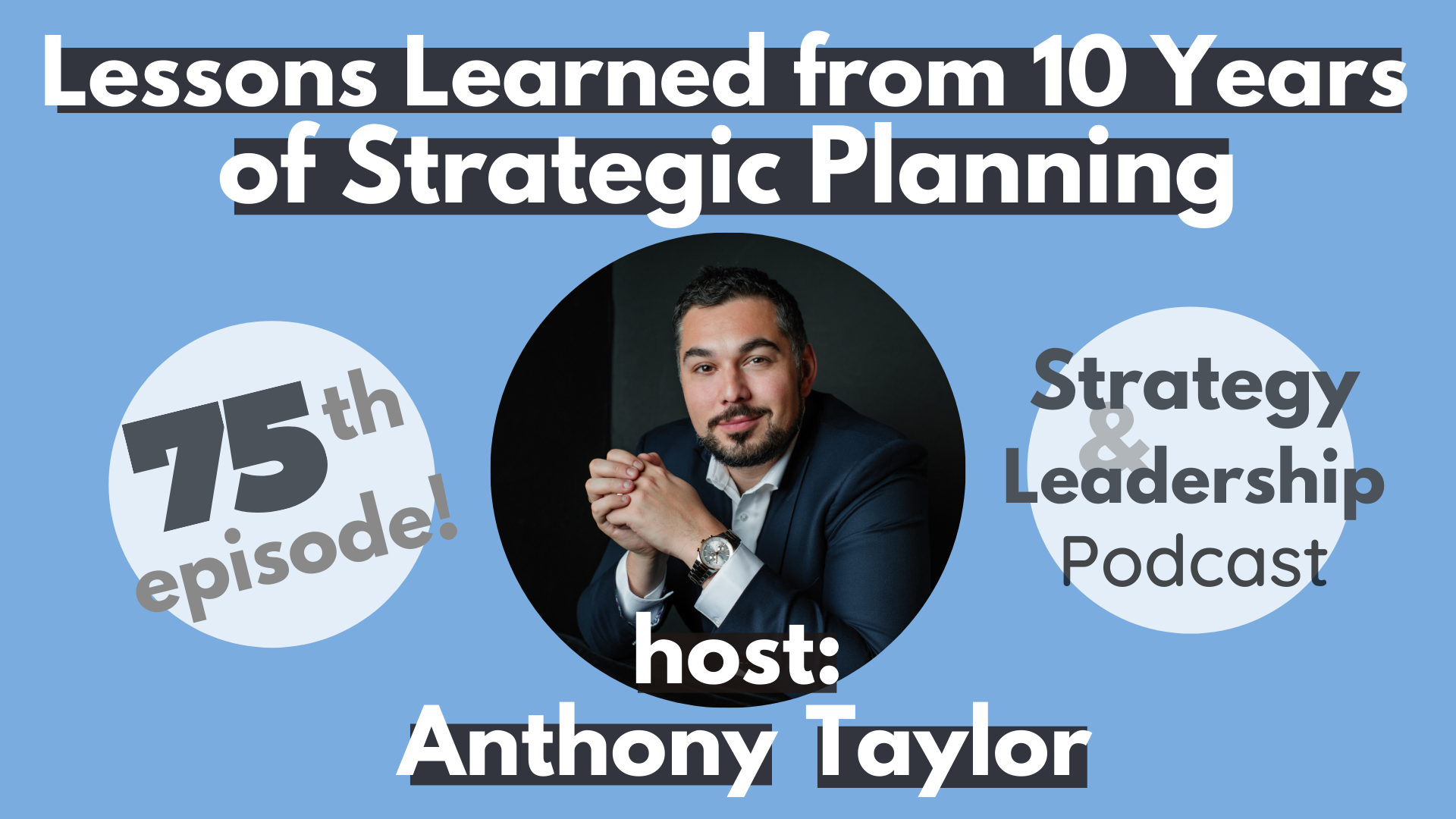 For this very special 75th episode on the Strategy & Leadership Podcast, we have no guests. Instead, our Managing Partner and lead facilitator Anthony Taylor will share some of his most important lessons from his past ten years of experience, as well as a glimpse into the future for both himself and SME Strategy.
Anthony has been facilitating strategic planning sessions and helping organizations of different sizes from various industries and countries reach their One Destination for just about 10 years now. He's seen just about every problem and challenge that leadership teams experience, and he's ready to share that with you.
Here's a breakdown of this special 75th episode with Anthony Taylor:
Anthony looks back on his entrepreneurial career history and how far he's come. He also talks about the history of SME Strategy, how the company has changed, what type of clients he services now, and the history of the Strategy & Leadership Podcast.
The plan is only a small part
Anthony's learned that the creation of a strategic plan is just a very small piece of the strategic planning process in total. He explains the importance of generating alignment, modelling culture and values, and getting buy-in across the organization.
Having a strategic planning session soon? Here are 15 questions to ask your team first:
On actually executing your strategy
Anthony looks back on what he's learned about communication from countless strategy sessions, coaching calls and forums, and how it's able to make such a great impact on strategy execution and success. He also addresses the high level of unclarity he sees in most organizations.
Getting people where they want to go
Anthony explains what's necessary to get people where they want to go, and how he plans on continuing to do that with SME Strategy moving forward. This includes having systems in place to support yourself personally, as well as a vision and mission to guide your organization and it's people.
Want to create a strategic plan for your organization from scratch?
Our readers' favourite posts