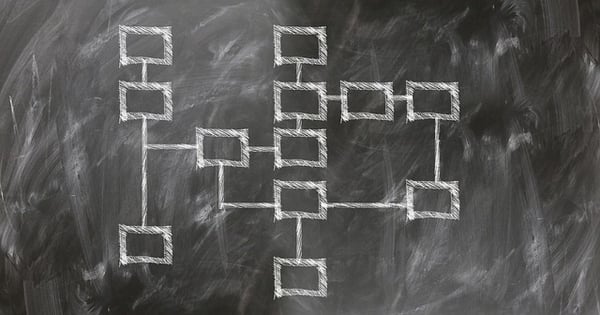 "Is it impossible to change organizations or are we using the wrong approaches?" Margaret Wheatley posed this question in the preface to Whole-Scale Change, a guide on aligning action within an organization to create processes for change.
The answer is that you can change the operating model of your organization. You start by examining your assumptions about the leadership role in the change process. Leadership must set the context and bring together the organization to collaboratively address the complex process of restructuring. The key words are 'collaboration' and 'process'. The benefit is a new operating model built from a broad understanding of the current operating context, while also being embraced by those who must enact the changes to bring the model into reality.

Leadership Lessons from a Successful Restructuring
The following case study insights are taken from a medium-sized organization numbering over 1,500 employees.
The new leader arrived under conditions of revenue declines and a cash shortfall. A year into implementation of a new operating model, customer satisfaction increased, revenue was tracking forecast, and employees were engaged.
How was this done? Consider these the distilled truths that emerged from a successful restructuring.
Leadership

– Leadership enables or disables collaborative change. Top leadership must be engaged and committed to a process that it cannot overly control or predetermine the outcomes. Sustaining this commitment requires support. The change leader must develop good rapport among members of the top leadership team, board members, and other organizational leaders who strongly influence organizational support for change.

Phased Process – Process that involves increasingly large members of the organization serves to expand awareness, understanding, acceptance, and commitment to change. By remaining involved and visible in each phase, leaders can assess the climate of the change effort, pushing and supporting where needed and standing back when other leaders are standing forward.
Sweat the Details – Detailed planning is the link between a design concept and implementation. Outcomes of detailed planning include not only timelines and milestones but also broad awareness and recognition that this change is real. This is not a rearranging of the deck chairs. Continuous and consistent communication of detail is part of a change readiness program. It shows people the first steps (and following steps) of the change journey.
Collaboration – A collaborative change process is social by nature. It brings together the relevant knowledge of the organization and its environment that is needed to make informed decisions about a new operating model. It builds informal networks that will break down silos and improve organizational agility. It activates the maxim which says, people will support what they help create.
Use a Collaborative Process
Your first step to the development of a new operating model is to ensure you understand the type of approach that you are going to take in addressing the changes needed. 'Process Consulting' is one of these methods.
A process consultant will lead your organization through a process whereby the people in your organization will make the best design choices for your operating context. This approach leads to relevant and contextually sensitive design choices, a new and shared understanding of the total operating model, improved social networks and reduced siloed thinking and behavior, and broadly shared change readiness.
By contrast, an expert model involves someone telling you how you should organize your operation. The recommendation is based on an assessment of best practices from similar organizations. The assumption is that you can successfully fit your organization to this external model. You change to fit the model. Many such attempts fail to deliver the desired outcomes.
A complete design process looks like the following:
Contracting – Develop an explicit agreement between client and change agent identifying various aspect of the working relationship.
Current State Review – Compare the operating model to the business situation and answer the question, "How fit for purpose is our current business?"
Foundation – Translate the business environment into a set of requirements which will guide the design process.
Concept Design – Produce a high-level operating model design which expresses the requirements defined in the foundation phase.
Detail Design – Translate a design concept into sufficiently detailed blueprints to bring the operating detail of the new model more clearly into focus.
Transition Planning – Fully plan and prepare the organization to implement the detailed design.
Implement and Stabilize – Finalize the implementation plan and support its execution in line with targets.
Evaluate and Calibrate – Learn and adjust based on implementation feedback while also governing the new operating model to ensure evolutionary changes to the model stay consistent with the original design principles and intentions.
At the end of each step, agreement and the choice to move forward rest with organizational leadership. You remain in control.
People Will Support What They Help Create
There is a high degree of consistency between process consultation and more complete case detail. Both are based on collaboration and broad participation. Both are also based in a progression of activities from clear statements of vision, values, and goals down to the detail of implementation. They stress the requirement to maintain the day-to-day business while navigating the process of change.
You can change the operating model of your large organization. The principles are the same whether you are working with fifty people or 20,000 people. Your first action is to find a management consultant who follows the process model. Ask them how they work. Compare the response to the ideas in this article. The benefit of a process method is an operating model that delivers the technical requirements of your organization using a social process that enables efficient and effective implementation.
People will support what they help create. Through process, leadership can create an environment where people can self-empower to define and bring to life a new operating model. These are the key messages from this business case of successful transformation.
This article was written by guest author, Dan Schmitz, a Consultant at ON THE MARK, a global leader in collaborative organization design. ON THE MARK has been in business for 29 years, supported by an unparalleled experience and passion for business transformation.
If you're looking to build you own strategic plan..
Our video walkthrough will help: