Leadership Tools for Educators: Free Webinar on August 26
By Anthony Taylor - August 24, 2020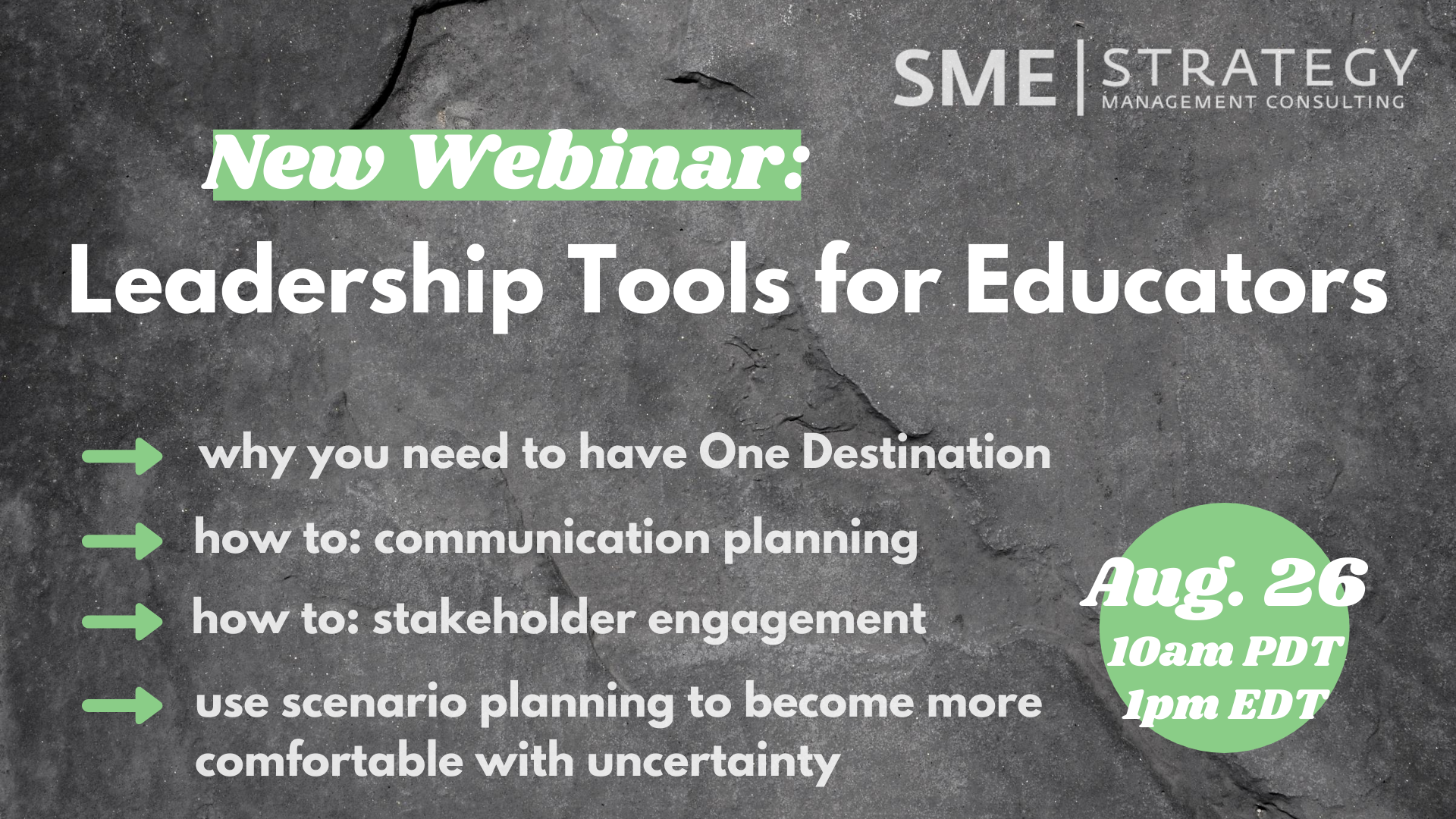 On August 26th, we're hosting a free webinar designed for educators, principals, superintendents & school administrators called Leadership Tools for Educators.
With various new policies and dynamics in place because of COVID-19, the school year is bound to look a little different for everyone this year.
Over the past few months, we at SME Strategy have been helping hundreds of educators across schools and school districts prepare for the upcoming school year. By working with them to generate alignment around a strategic plan and One Destination, they're now prepared for their mist unique school year yet.
After seeing how much these schools have benefited from having One Destination and alignment around a strategic plan, we've decided to host a webinar to share our experiences and help more educators out there.
This Wednesday on August 26th, we'll be be hosting a free 90-minute training titled Leadership Tools for Educators. In this free training, we'll share some tools and tips to help you with getting buy-in, goals setting, and new approaches to leadership for the year and beyond.
Here's what you'll learn:
What having One Destination looks like, and why it's important for your team to have one (for the middle and end of this school year, and even into next)
How to use scenario planning to become ready and more comfortable with uncertainty
How to do communication planning and stakeholder engagement
How to develop values and goals that support your common vision and One Destination
On top of that, I'll also be sharing how to use your mindset as a powerful tool when managing stakeholders, communication and change.
Register now to join us on August 26th at 10am PDT/1 pm EDT.
This training is designed for educators and school administrators, but will surely help parents and families as well. If you know a teacher, educator, superintendent or principal, send them this invite and help them succeed this school year.