3 Reasons Why Your Non-profit Needs a Strategic Planning Consultant
By Anthony Taylor - May 24, 2021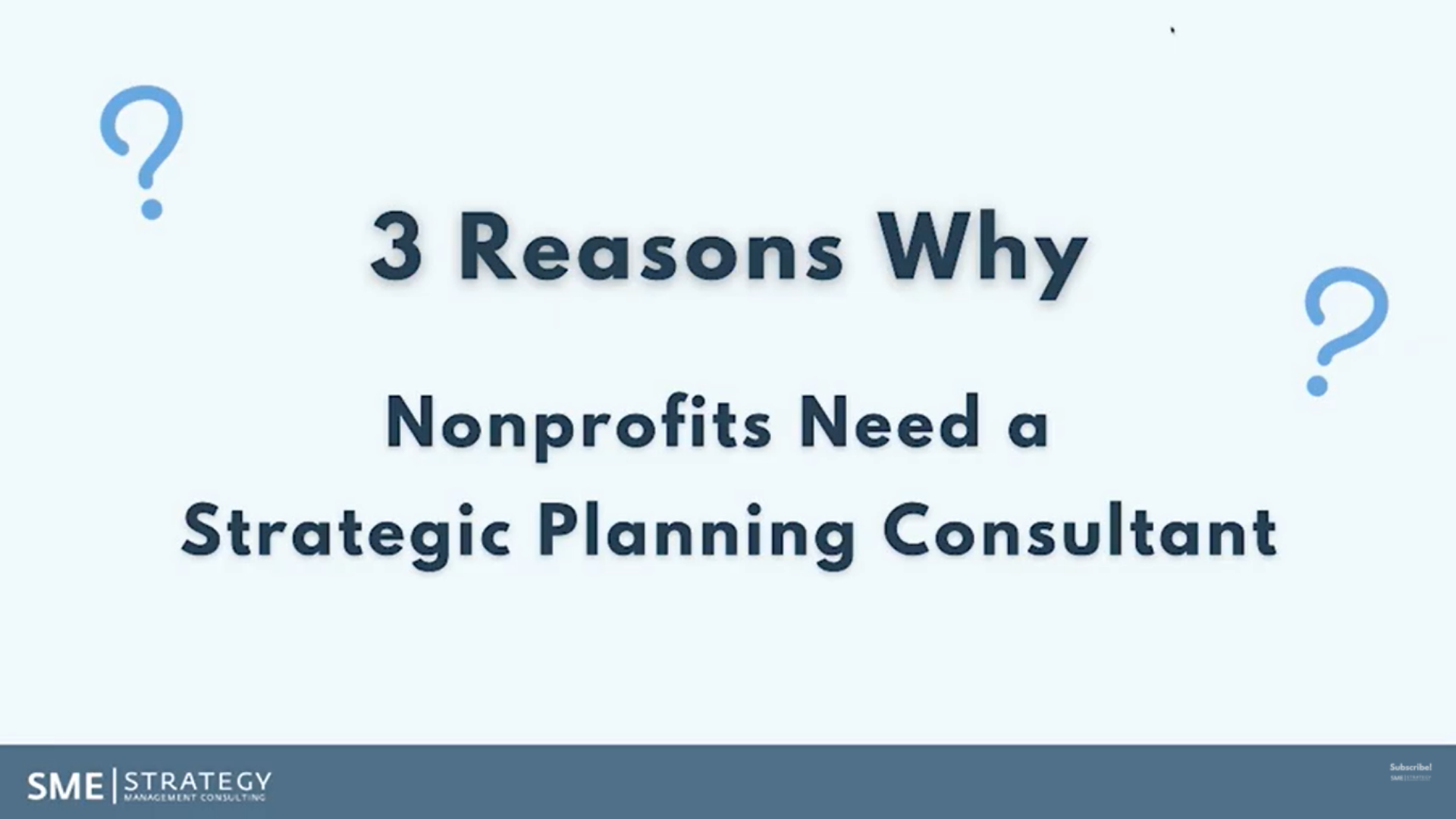 Today I'm going to share with you three reasons why your nonprofit needs work with strategic planning consultant. My name is Anthony Taylor, I'm the managing partner at SME Strategy - we help organizations create and implement their strategic plans. And today I'm going to share with you three reasons why your nonprofit should work with strategic planning consultant for your strategic plan.
1. Focus your time & increase your impact
One reason to work with a strategic planning consultant on your strategic plan is to help focus your time, your volunteers and you're board. You're already busy and don't have the luxury of being able to muck about and get it wrong. The other benefit there around focusing your time is that it'll help you have greater impact on what matters most to the organization, so you'll really be able to focus on the impact, and not have to spend too much time in meetings and working on stuff that isn't important.
Another key about focusing your time is you're able to look forward as an organization. We've worked with so many nonprofits that have a storied history, they have board members that have been on their board for a really long time, and that hold on to the past views of the organization. And while those are important and relevant, you know part of your strategic planning process is looking forward onto what's next. So a consultant will be able to bring an external view to help you look forward, so that you make the most of your time in strategic planning.
---
We can help you align your team around a clear vision, mission, values, goals and action plans,
so you can lead your organization more effectively and get better results.
---
2. Align your organization around your purpose
The number two reason to use a facilitator or consultant for your strategic planning is really to help you align around your mission, and on your organization's purpose. You know your mission drives everything that you do. And so if it's unclear or if people have a different understanding of what it means, it's going to slow down everything that you do. So by having somebody external to get everybody reconnected to the mission, it's going to help you have greater impact, it's going to help you have greater focus, and it's ultimately going to align your entire organization around its purpose for existing.
3. We'll herd the cats.. benefit from our experience
We'll be there to help you herd the cats. As we've mentioned, we've done this with hundreds of nonprofits. We know the tough conversations that need to happen. We have a set structured agenda and flow, and the flow is what's going to keep you on track. So not only will you not waste time, we'll keep everybody on track so the sessions don't get diverted. My experience working on boards and working with boards is that people love to share stories and talk about stuff that isn't necessarily relevant to what's happening. An external person can keep your team focused so that you leave your planning session with clear strategic plan and a clear direction.
Summary
So in summary, why hire a strategic planning consultant? We'll help you focus your time, help get your entire organization aligned around your mission, and help you herd the cats. That way, you'll be able to successful create a plan (that's probably mandated by your founders). So if you're interested in learning more about working with a strategic planning consultant, we do provide not for profit rates. You might be somebody who is totally set - they don't need to work with a facilitator, and that's great. If you're somebody who has a couple questions about working with a facilitator, we'd be happy to answer them. Or if you know you need the help of a consultant to work with your team, click the link below for a complimentary consultation.
---
SME Strategy is accepting applications from non-profit organizations who wish to receive our strategic planning facilitation services at a heavily discounted rate.
*Our next intake will open May 2022, but you're welcome to apply early.
---
Thanks so much for joining us. I hope this was helpful to help you better understand the benefits of working with a consultant, and it hopefully helps give you more clarity as you move forward with your strategic plan. My name is Anthony Taylor from SME Strategy. Thanks for joining us and we'll see you next time.
Our readers' favourite posts