How to Execute a Strategy Plan
By Anthony Taylor - November 10, 2022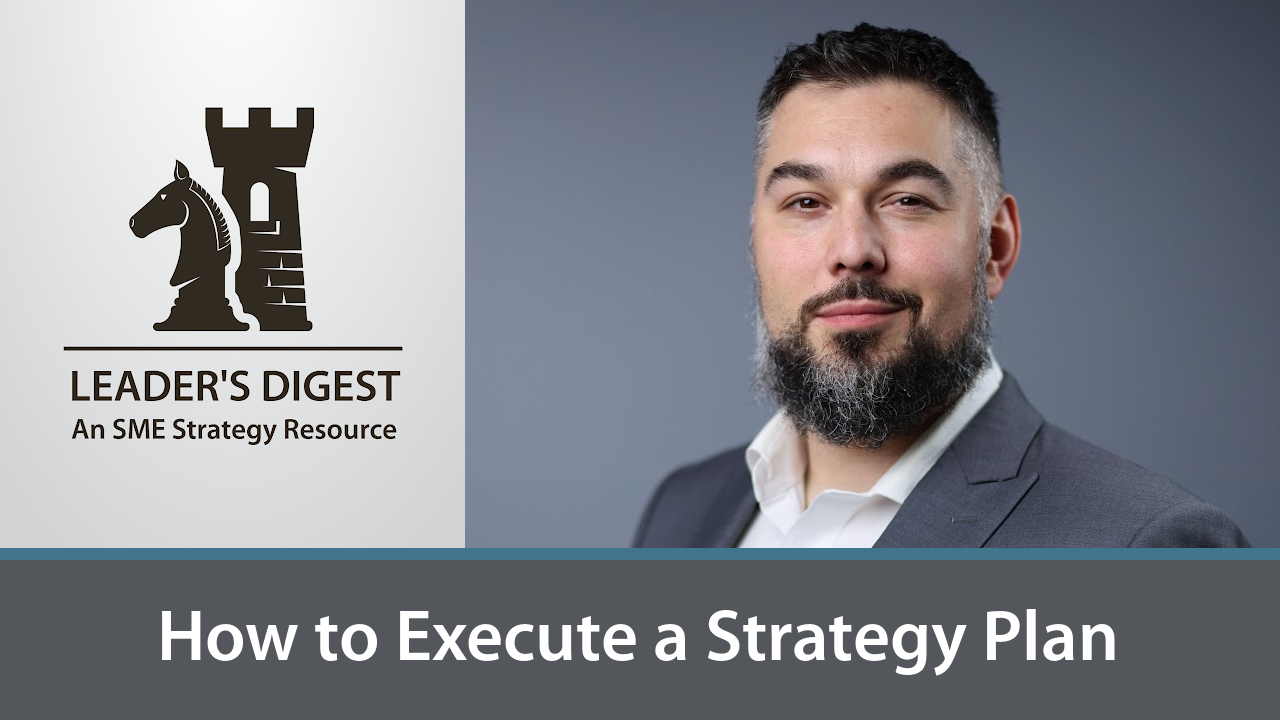 In this article, we'll examine how leaders can take their organization's strategic plan and begin to successfully execute it.
Unfortunately, it's often the case for companies to develop a strategic plan but then drag their heels when it comes to executing it. Of course, the primary purpose of the plan is to guide the evolution of an organization, but it has to be implemented for it to work!
If you're sitting on a strategic plan and wondering how to get started putting it into action — don't worry, you're not alone! Read on and discover useful insight and tangible steps you can take to get the ball moving.
Don't forget: We also share regular insights about all things business strategy on our LinkedIn page.
ANTHONY'S PERSPECTIVE

Hi, it's Anthony here. I'm the CEO of SME Strategy. In this section of Leader's Digest, I'll give you my perspective on the topic at hand. I encourage you to watch my included video, which will go into more detail.
Have you ever wondered what the difference is between a strategic planning document and a strategic plan that gets executed? Today, I want to talk to you about a few things that I have found to be true when it comes to understanding how to execute a strategy plan. This insight can enable you to make the difference between your strategy becoming a "shelf plan" and a plan that actually gets executed.


Creating a strategic plan is arguably the easy part of the strategic process. Ultimately, you will need to execute your organization's plan and this is not necessarily a paint-by-numbers process. However, there are three important factors that must be clearly defined when you want to understand how to execute a strategy plan.

The first is a clearly articulated vision. As an organization, you need to know where the endpoint is located. This is the "why" behind where you're aiming. If everyone on your team shares this vision, then you can collectively and incrementally move toward this endpoint. By maintaining this line of sight, your team can actively pursue initiatives that move towards this endpoint, and it may be clearly determined if and when your organization has reached it.
The next critical component is goals. These will refine and focus where you need to go in the short term. If we think of a 3-year vision, then goals will help you be more effective in during each 12-month period. Goals should be SMART: specific, measurable, achievable, realistic, and time-bound.
The third piece is resources. Although money is important and needed as a resource, time is the most important: time to work together, time to work on the plan, and time to plan the allocation of your team to ensure where you want to go. If you have a big vision, then you're going to need more time and energy than if your organization's goals are smaller.
FURTHER INSIGHT
To gain a well-rounded perspective on how to execute your strategic plan, we recommend reviewing these pertinent articles.
CONTRARIAN CORNER
In this segment of Leader's Digest, we highlight a new approach to dealing with the topic of discussion. This will identify alternative modern solutions for your consideration
Take a look at the following article, which applies a different perspective on strategy execution.


5 Ways the Best Companies Close the Strategy-Execution Gap



Poor execution is used to excuse a bad strategy. What leaders need is a new strategy development approach. Success entails establishing an organization's next few stages along a clearly defined strategic route and then learning and refining along the way.

LIGHTS, CAMERA, ACTION!
Here are some of our actionable tips that you can use now to begin the process of executing your organization's strategic plan.


5 Keys to Successful Strategy Execution

Here are five keys to successful strategy execution that your organization can use.


Strategy Execution: How to Execute in 6 Steps

Discover the various principles you must adhere to when developing your strategy execution plan.



Learn the dangers of implementing a strategy, how to prevent them, and review several recommended implementation frameworks in order to prepare you for success.
WEIGH IN
You're invited to become a part of the conversation.
Participate in this poll question:

Do you and your team have a unified process where you all track progress against your strategic goals?
Click here to provide your answer and view the collective results.
SPOTLIGHT
THE SME STRATEGY NON-PROFIT PROGRAM

November 1 - December 15, 2022 Application Period

As part of its ongoing commitment to give back to global communities and people, SME Strategy is offering significantly subsidized rates for fully-facilitated, virtual strategic planning sessions to 10 select non-profit organizations located in Canada, USA, and around the globe.
If you're a non-profit and interested in applying, please click the image or link above. Also, share this opportunity with non-profits that can benefit from a professionally facilitated strategic planning session!
SME STRATEGY NEWS
There's always a lot going on at SME Strategy. Here's a snapshot of recent and upcoming articles, events, and news.

THE ALIGNED STRATEGY COURSE

Are you a senior leader, a solo strategist, or an organization in its early stages that wants to learn more about strategic planning?

In the SME Strategy Aligned Strategy course, you'll learn how to lead the strategic planning process with your team, as well as:
✅: How to create a clear vision, mission, and values that your team will buy into.
✅: How to get your team aligned and clear on your most important priorities.
✅: How to get your teams to set clear and measurable goals that help everyone get aligned on what "good" looks like.
Click here to learn more about this online, self-paced course that delivers results.

MORE THAN 25,000 YOUTUBE SUBSCRIBERS!

SME Strategy is excited to announce that our YouTube channel recently eclipsed 25,000 subscribers! We're thrilled that our viewers find our videos interesting as we strive to regularly produce and feature content that provides real strategic insight.
Not yet subscribed to our channel? We encourage you to check it out!

ABOUT SME STRATEGY
SME Strategy facilitates strategic planning and helps teams implement their plans through regular check-ins, executive coaching, and team development. We've successfully crafted hundreds of strategic plans for organizations active in more than 35 industries.

Our readers' favourite posts